You're a newly pregnant momma and you can't wait to schedule your newborn photography session. With so many options out there, should you do an in-home session or a studio session?
Neither option is the right choice. Rather, the correct answer is whichever one best for your family.
I'm here to help walk you through how to make the best decisions when deciding whether to have your newborn session in your own home or in the photographer's studio.
When I first started my business I only offered in-home sessions. Now that I have a home studio, I still like to offer the convenience of in-home sessions to my clients who prefer them. Over the years I've been able to compile a list of the reasons clients prefer the different types of sessions.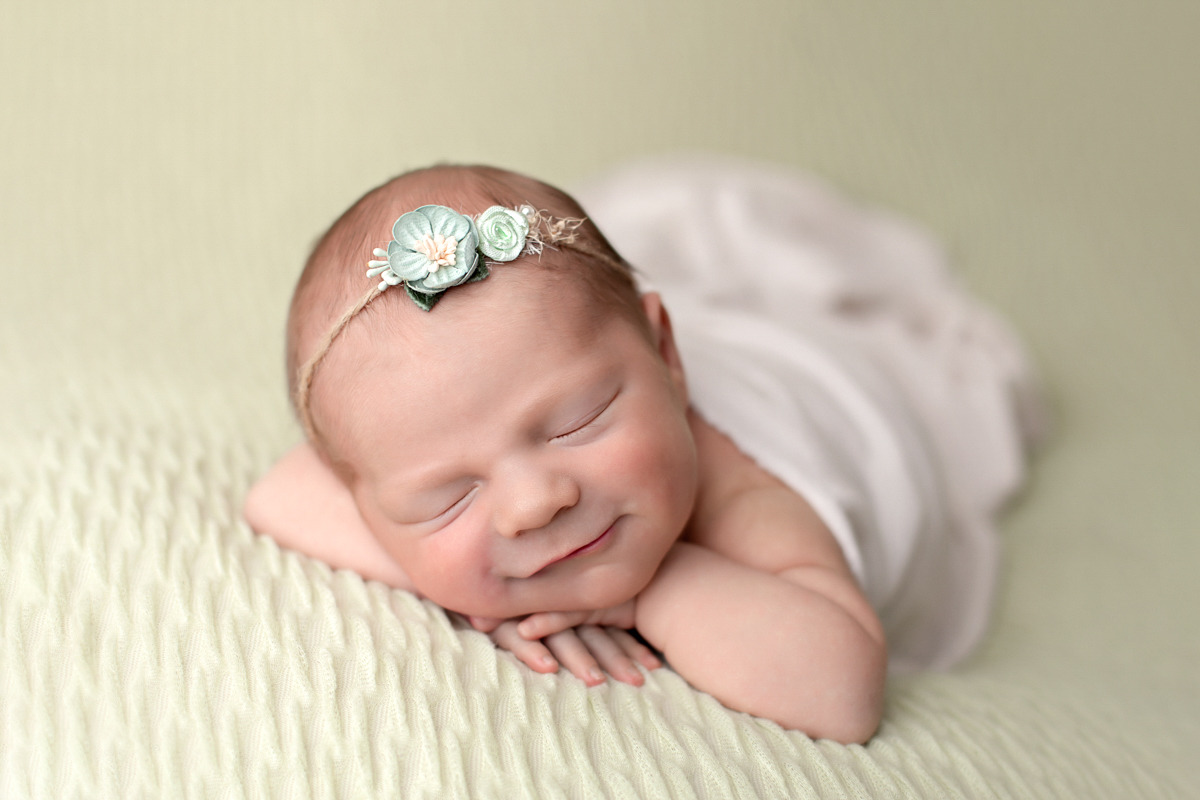 Photo by Ana Ramalho
1 - Do you worry about taking your new baby out in public? Some parents are perfectly comfortable going out with a 1-2 week old baby. Some parents are still sweating bullets when they have to put the baby in the armored tanks they call car seats these days. Some moms are still recovering and don't feel like moving too much. Some moms can't wait to get out of the house. Some babies are a little higher risk than others. There's no judgement, just whatever you are more comfortable with. I would just like to note that my studio is impeccably clean, and all of the clothing, wraps, and props are properly cleaned and sterilized between clients. I am up-to-date on my immunizations, yearly flu shots and fully vaccinated against COVID. So whether you come to my studio or I come to your home, your baby will be in safe surroundings and safe hands.
Also, not having to travel to your newborn photographer can fall in either the pro and con category. On the one hand, there is no worry about packing, bringing diapers, wipes, pacifiers, etc. On the other hand, your home needs to be semi-presentable for taking pictures, with some clean space to set up a small studio, especially if you want more traditional newborn photography.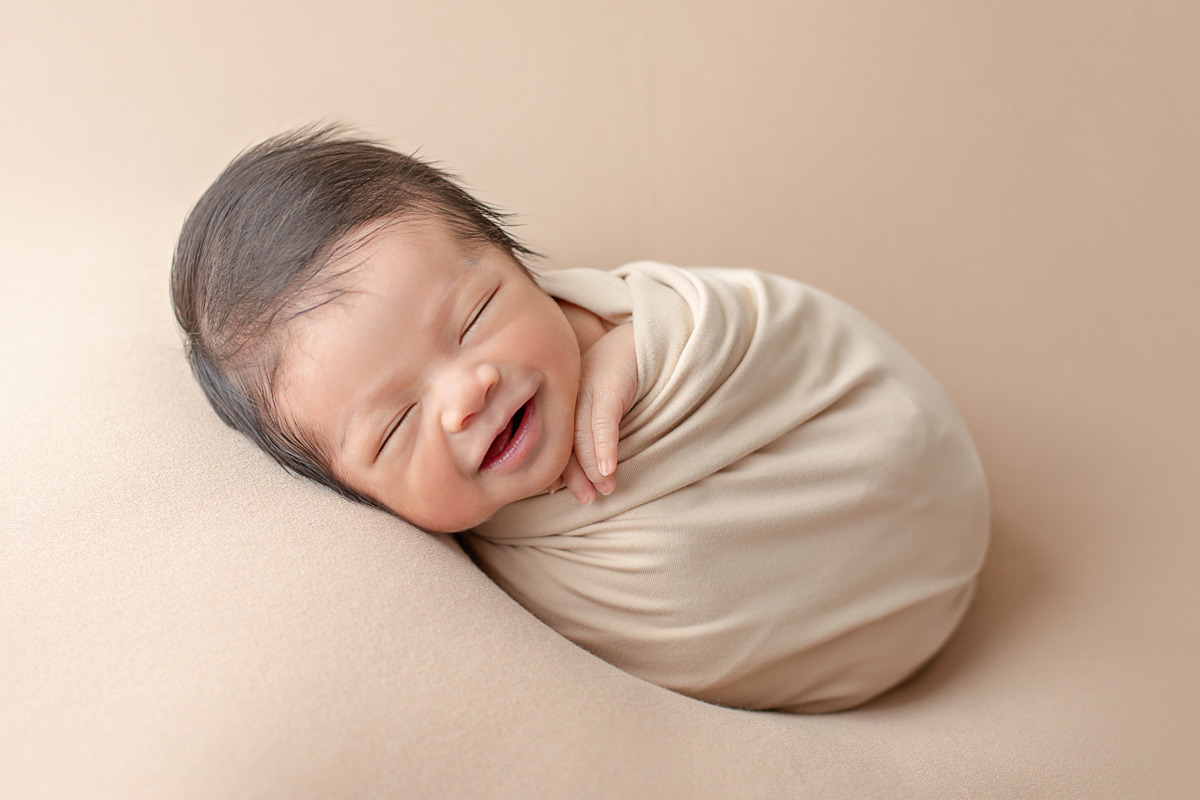 Photo by Ana Ramalho
2 - Are there older siblings? This is a tricky one. You know your babies better than anyone, so you need to think about their personalities when making this decision. Many of my clients have children between 18 months and 3 years old and we all know kids this age have strong-willed minds of their own. There's no guarantee they will cooperate for photos so we just need to go in with a great attitude and hope for the best (and maybe have a few bribes up our sleeves). If you've decided on a studio shoot, I always recommend starting the shoot with family and sibling photos so the older siblings are free to find some activity if they want. Depending on their age, older siblings don't have the patience to spend 2 hours watching the session and then taking them to another activity can be a great idea!
With some older children, being in a familiar environment helps them feel comfortable during the session. Be aware though – it can also become a major distraction with their toys, unlimited snacks and devices all right there as well.
3 - Are there several big sisters and brothers? I would definitely suggest a home session. Once you are out-numbered by your children, it's definitely easier to manage them at home.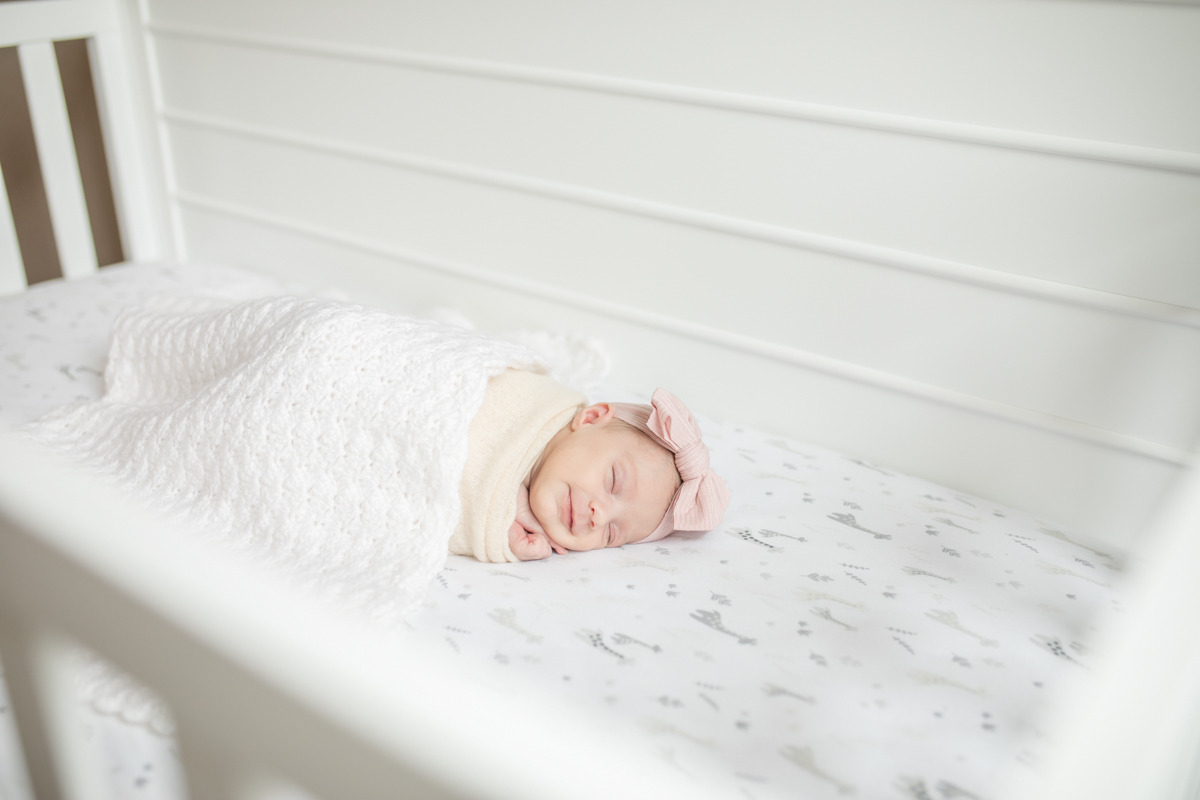 Photo by Ana Ramalho
4 - Lifestyle vs Traditional Posed Newborn Photos? At home newborn sessions tends to incorporate more of your home's elements, such as the nursery and have a more candid and natural vibe to the photos. Does this mean if you prefer the more traditional newborn photography look you can't do an at home session? Absolutely not. Talk to your photographer. At my Studio, we bring a small set-up with us on location that allows us to create our signature, simple and classic newborn images right in your own home.
5 - How much time do you have? In-home sessions typically take around 3-4 hours. This is including the time it takes me to bring all of my equipment in and setit up, and then breaking it down and taking it back out. Studio sessions are usually 2 hours. I still like to block off 4 hours though, just in case baby is fussy, or needs a few feeding breaks, but in general, the studio sessions are a bit shorter.
6 - Are you willing to pay for the convenience of your photographer coming to your home? In-home sessions are going to be more expensive than studio sessions. Your photographer needs to plan and gather all of the appropriate props, pack up all of equipment, travel to your home, set up the equipment, break down and pack up the equipment again, travel back, and then unload the equipment and props again.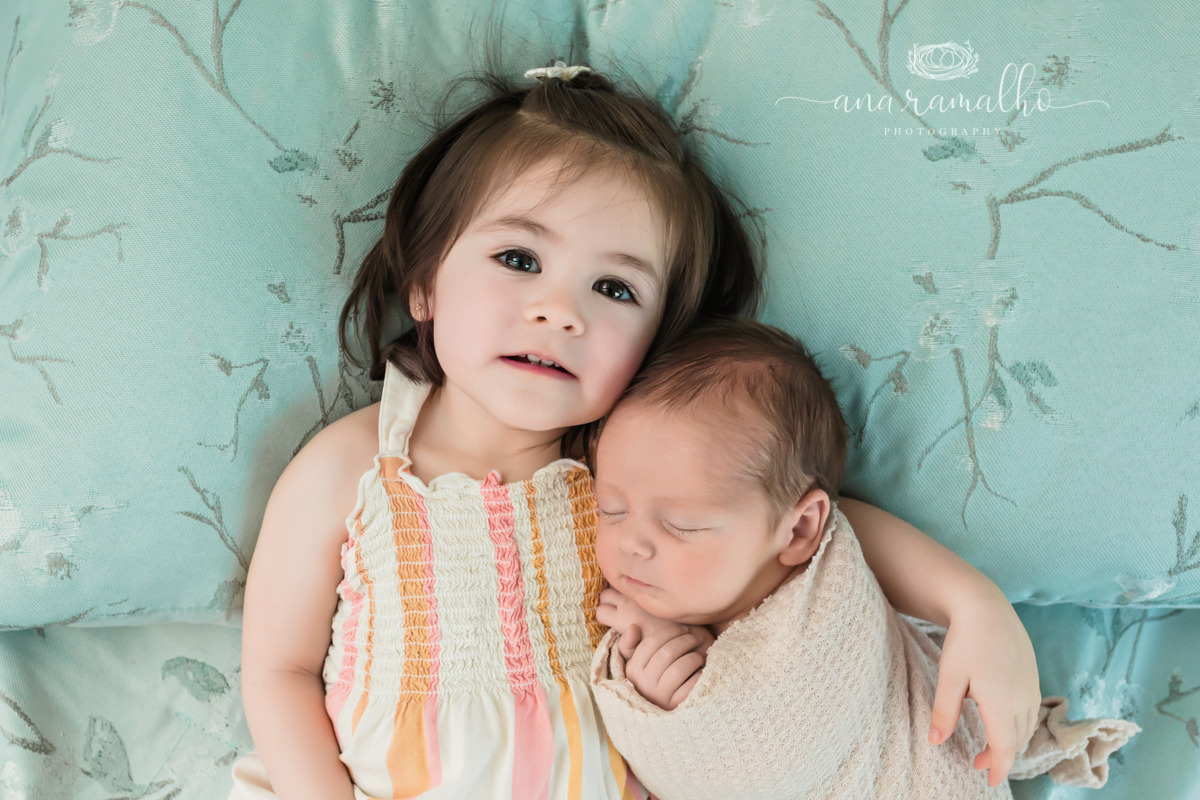 Photo by Ana Ramalho
Those are the main questions I think you need to consider when making your decision. There's no right or wrong answer for which one is better. It's whatever suits your family best!
If you were on the fence trying to decide which type of session to choose, I hope this helped. If you have any other questions, please feel free to contact me.
Congratulations on your new little one! Whichever session you choose I'm sure you will adore your photos forever!
Can you guess which images were shot in the studio and which were shot in the client's home?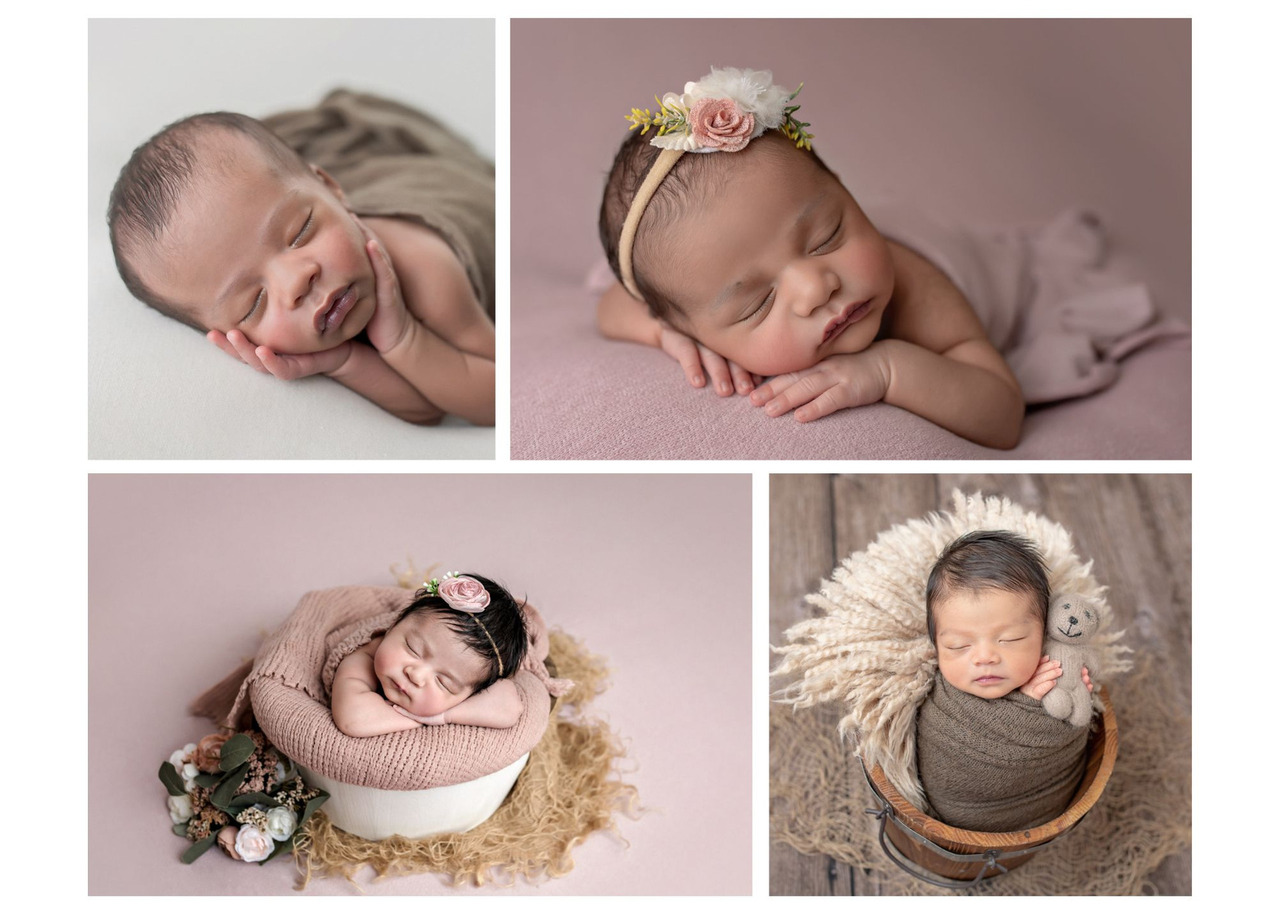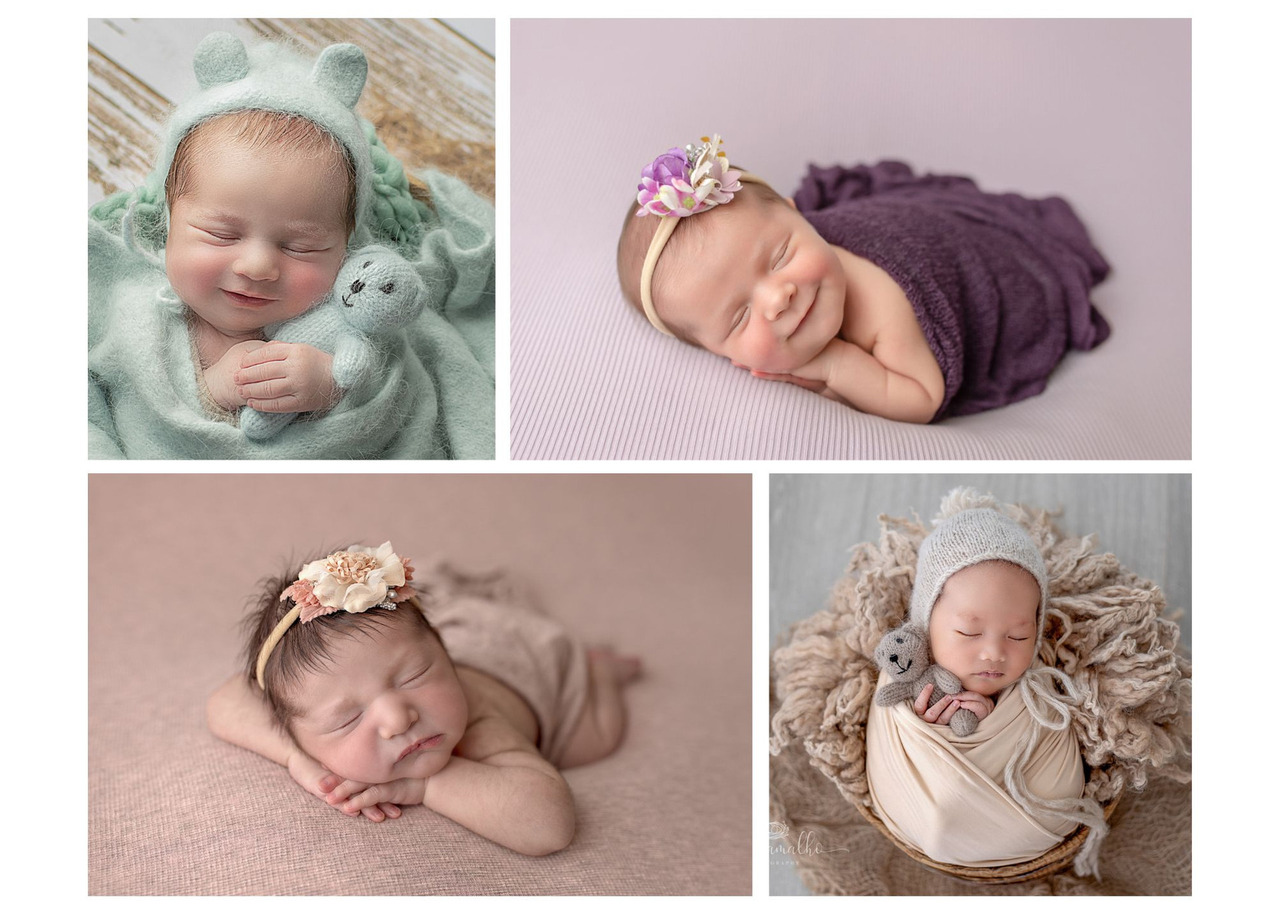 Photos by Ana Ramalho
Related article:
https://michellelindsayphotography.com/newborn-photography-at-home-versus-in-studio/
https://jessicadoffing.com/recent-work/should-i-do-a-home-or-studio-newborn-session2912019