What is a cake smash? It is a milestone photoshoot that typically occurs when the child turns one year old where they are presented with a cake to eat or smash or both. Cake smash sessions are a fun way to celebrate the milestone of your little baby turning one. For some babies, this is their first taste of cake or a sugary dessert, so it's a fun milestone to capture and celebrate their birthday.
When should you do a cake smash photoshoot? Typically, the cake smash photography session is done around the baby's first Birthday, and the photos are then used to adorn party invitations or let family and friends know about important developmental milestones. Before that age, there wouldn't be much use in offering the little one cake, as they wouldn't necessarily show any interest. On the contrary, at 12 months, a sudden rush of sweetness is often the first time the child can consume as much cake as they want, or better still – do whatever they want with it. From face painting into it to throwing the bits and pieces around like there's no tomorrow, the possibilities are endless!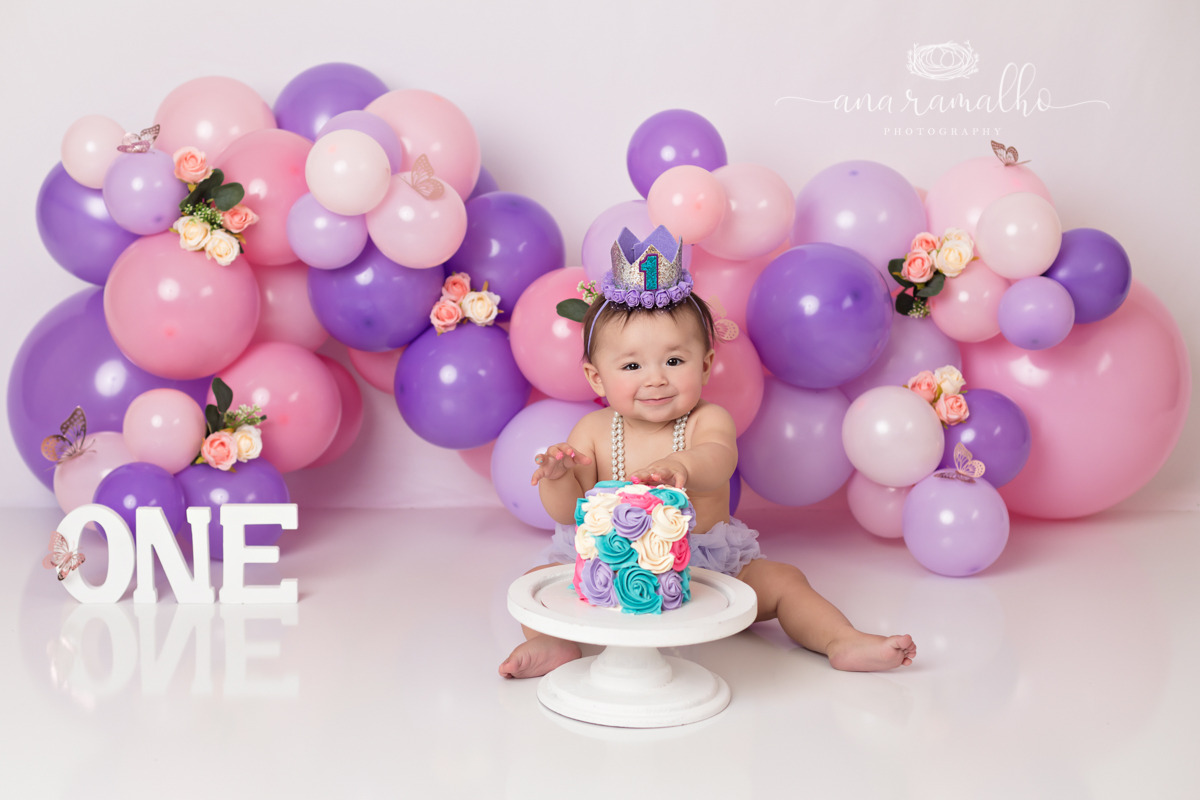 Photo by Ana Ramalho
When is the best time to schedule a cake smash? Some parents like to do these sessions very close to baby's first birthday. If you want photos for a party, though, you will need to schedule the session in advance to allow time to receive your gallery. Many parents like to use the images for their birthday invitations, post party thank you cards, or to have a large canvas displayed at the party itself.
TIPS FOR A SUCCESSFUL CAKE SMASH SESSION.
Schedule your cake smash session keeping naps in mind. Naps or bedtime should always be top-of-mind when scheduling a cake smash session. The idea of these sessions are to capture your child's personality so we want to make sure that they are well rested. If your child is on a schedule and naps every day at a certain time of day, I will work around that schedule. If your child is not on a schedule but tends to be the happiest during certain portions of the day, let's be sure to schedule the session during that time.
Let them be a little hungry. I always recommend that you feed your child before they come to a session so they are not starving and fussy, however with cake smash sessions sometimes it can be beneficial if your child is slightly hungry. Still feed them of course, but if they are still a bit hungry when they get to the shoot, they may be more likely to dig into the cake. If they've just eaten a full meal, they may not be as interested in eating more when they see the cake.
Bring their favorite snack. If you are worried that your child may be shy about digging right into the cake, have your baby's favorite snack on hand. Puffs, Cheerios, yogurt bites, crackers, etc. whatever is their "always makes them happy" snack, bring those along. We can hide those little snacks in the icing or part of the cake to encourage them to really dig into that cake.
Choose the Cake with care. Some photographers include the cake as part of the cake smash service, but for safety reasons, I recommend that parents order the actual cake. The baby may have allergies (wheat, egg, etc.), and it's best to let the parents sort that out. For instance, consider the cake smasher, a one-year-old baby. The cake should be soft and easy for them to tear apart and eat. As for the exterior of the cake, keep the design somewhat simple so that it does not distract too much from the baby and the action taking place. Feel free to add a topper to mark the occasion, such as a "One" to denote the baby's first birthday. If you choose the colored finish on the cake, it is important to make sure with the cake maker that no dye will be used that leaves stains on the baby's skin. You don't want your baby's skin all smudged for the splash bubble bath session.
Add splash bubble bath scene. Before cleaning up the baby, let the baby play with the water in front of your background; adding a splash bubble bath will make it more exciting. Babies are natural water lovers. By doing so, you will be able to capture some astounding playful moments of the baby.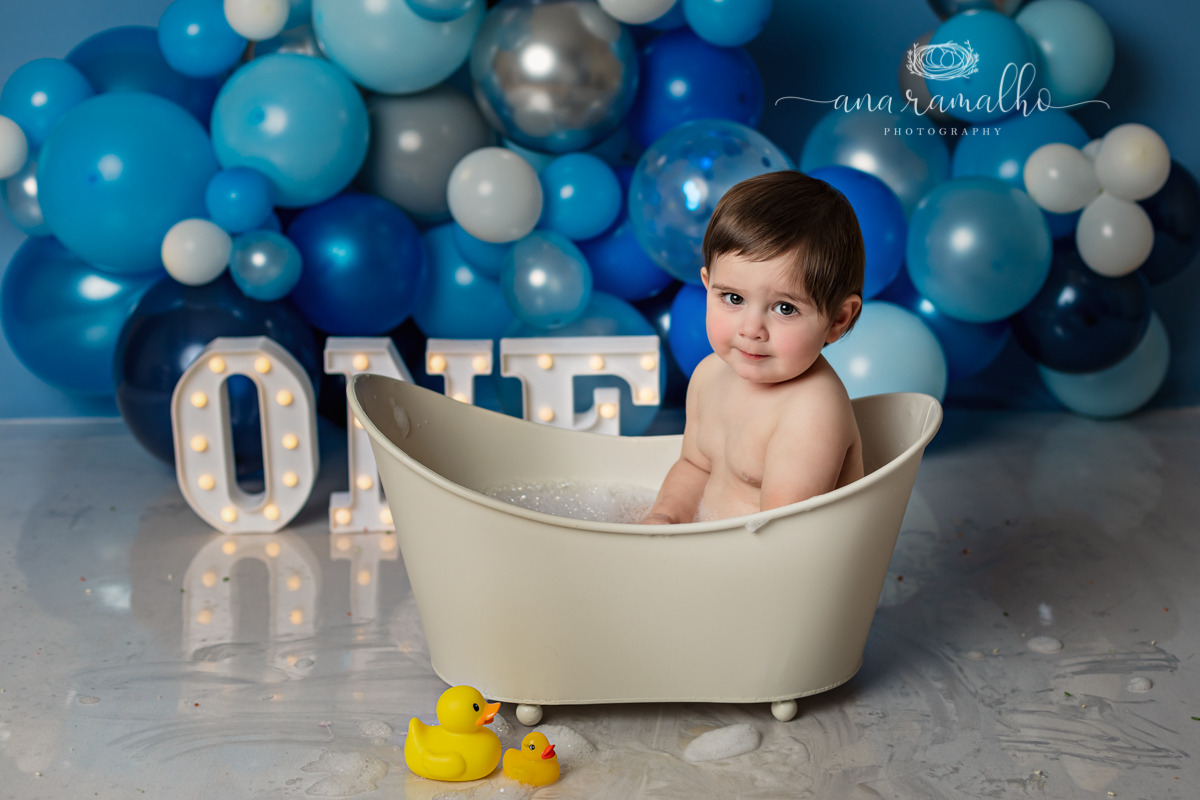 Photo by Ana Ramalho
Tips for hiring a professional photographer. The following tips will help you pick the best photographer for your upcoming cake smash photoshoot:
Do your research – and then do it again. Before approaching a few shortlisted photographers for quotes and consultations, you need to form a clear idea if what your budget is, and what quality/inclusions/extras you're likely to get for it. From reviewing their website and social media to diving into the comments under their posts, you want to find extensive evidence of great personal skills and awesome work quality.
Photo by Ana Ramalho
Don't be cheap. It can be tempting to hire someone who offers low prices – but chances are this person is a hobbyist at best. If the money is tight, you might be better off going the DIY route or waiting another year to take the photos.
Don't be shy and ask about relevant experience. Someone might be a brilliant landscape photographer, but they aren't necessarily great at taming screaming, cake-stained toddlers! Training, experience or a combination of both all matter when picking a photographer.
What are the photoshoot arrangements, is there a studio for you to come into, do they have props available, what kind of equipment they have, will the baby be comfortable in the proposed setting, and so on.
What are the cancellation and rescheduling policy? Babies are largely unpredictable – so you need to know what happens in case of a sudden cancellation. Will you lose your bond – or even an entire session fee? Are there fees for rescheduling? Ask everything and make notes to avoid unpleasant surprises.
Are there extra charges to include more people (parents or siblings)? Is it possible to combine 2 shoots in a single time slot, in case another cake-smashing toddler wants to join in the fun?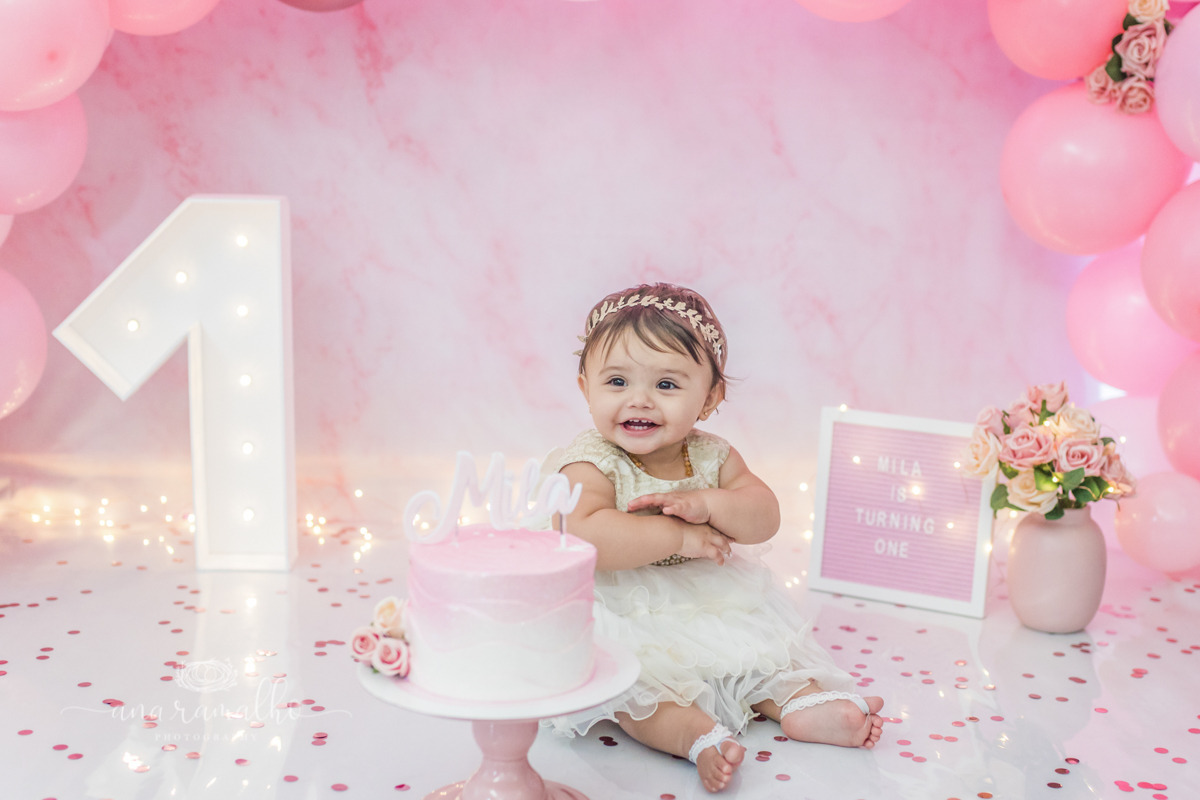 Photo by Ana Ramalho
Final Words. A cake smash photography is all about celebrating and creating memories. Looking at a baby growing up is really a mesmerizing experience for parents. They are prone to treasure these precious memories. So, help them cherish this occasion forever!