Are you waiting to welcome a little one? If so, some of the sweetest memories ever are waiting for you during a newborn photography session!
Here are some commonly asked questions from parents-to-be who are planning a newborn photo session.
What is newborn photography?
Professional Newborn Photography can be an art in itself. Baby shots may be the most difficult pictures to take in the photography industry. The hardest part of getting a great looking portrait is having the baby cooperate.
The first rule to live by with baby photography is that they ARE the boss of the shoot. The photoshoot process must be modelled around their mood and be able to pick up on their needs. There are some tricks of the trade you develop to the best shot of that wonderful baby.
By learning the baby's personality, you can persuade pictures from the shoot that otherwise would be impossible to get. Professional newborn photography provides you with the amazing and beautiful baby portraits that will last a lifetime.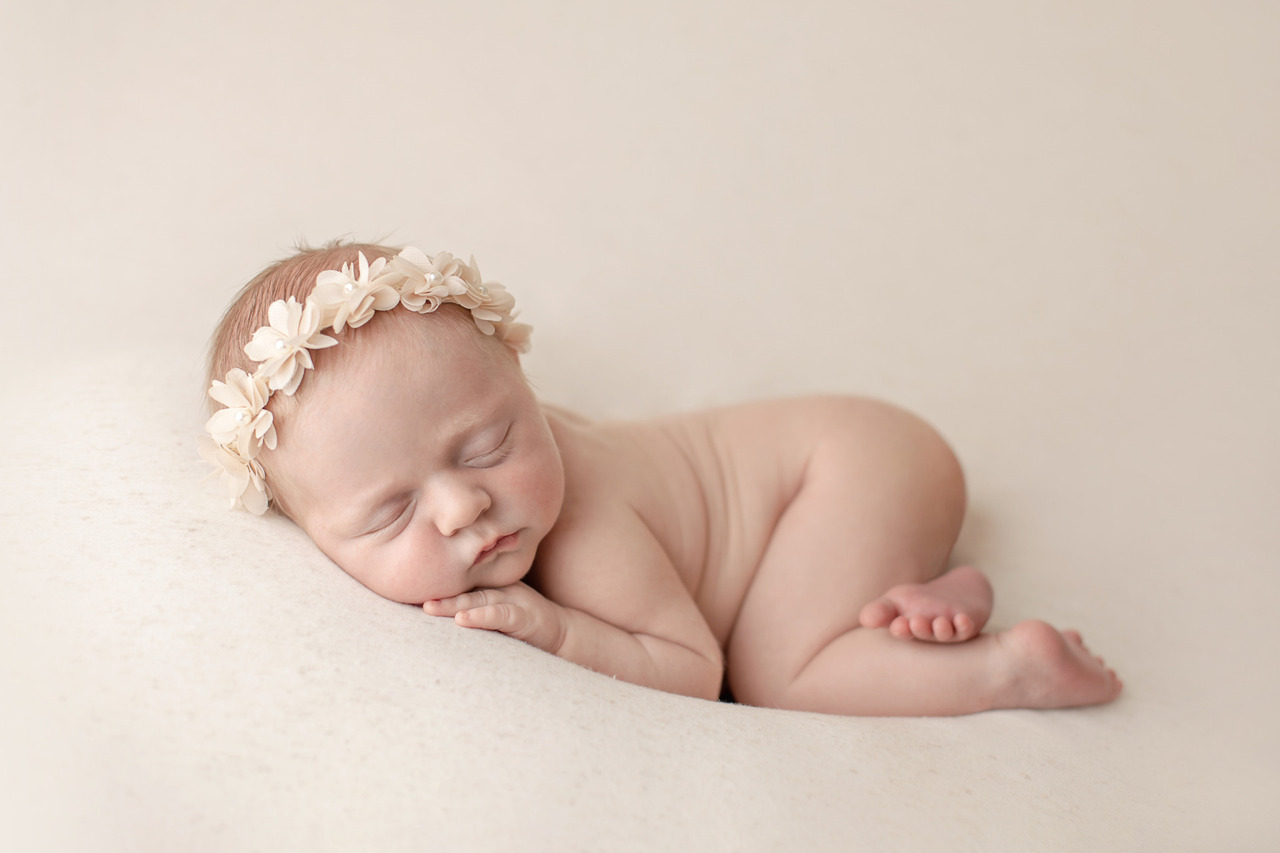 Photo by Ana Ramalho
Why you should get Professional Newborn Photography?
Professional photographers invest in state-of-the-art lighting and equipment so they can make sure that your photos will come out looking extremely amazing. The quality of your pictures will depend on the equipment and lighting used.
Professional newborn photography requires a unique passion that capture your special moments. Having a photo shoot for these precious moments, so the photographer makes sure that everything is perfect. By this, you can be assured that your pictures will turn out perfect, instead of being stressed out about your photo's.
Professional Photographers have spent years perfecting their craft. By taking advantage of this, you will highly benefit not only from their experience but also from their creativity. From the start of the session, they will know the right angle, amazing poses, and the right props for the photoshoot.
A professional studio can make a difference, not only for the pictures but for your baby. Photographers who specialize in newborn photography, make sure that the studio is safe for your infant. So, rest assured when you bring your beautiful newborn to our studio.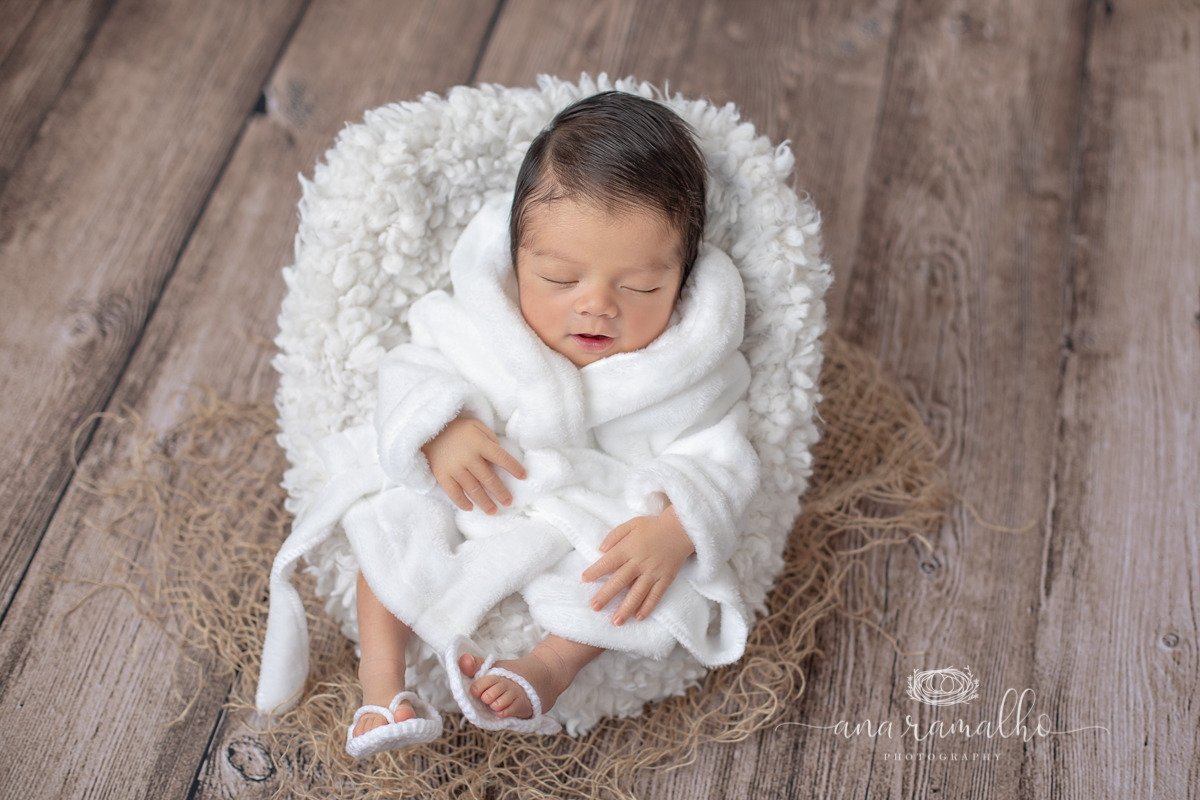 Photo by Ana Ramalho
Why should I have newborn photos taken?
The first few weeks of your newborn will go by so quickly! Each day your baby grows and changes, before you even realize, weeks and months will pass, and you will find them enter a new stage of their journey growing up.
Therefore, it is so very important to photograph your baby at this time and capture him or her in the first weeks of their life. It is taken for granted how little they really are and how quick they grow. Newborn Portraits will allow your family to continue to cherish and revisit those incredibly beautiful moments for years to come.
Imagine going through together with your child looking at a collection of photographs of him or her and telling them about how much you fell in love with them, and together enjoying images of them from their newborn session.
Also, you might be surprised at how busy you are after baby arrives! You'll be learning how to feed, swaddle, change and soothe your newborn, on top of check up appointments, visits from loved ones – all in addition to the enormous adjustment to parenthood!
Enter the beauty of a relaxed newborn session. Here's your chance to slow down, bond with your little one and enjoy the incredible feeling of being a parent. Your only job is to simply gaze down at her tiny face and soak in sweet snuggles while your photographer provides gentle posing direction.
These intimate, tender moments where mom and dad bond and cuddle with their newborn make for priceless, powerful photos you'll love for a lifetime!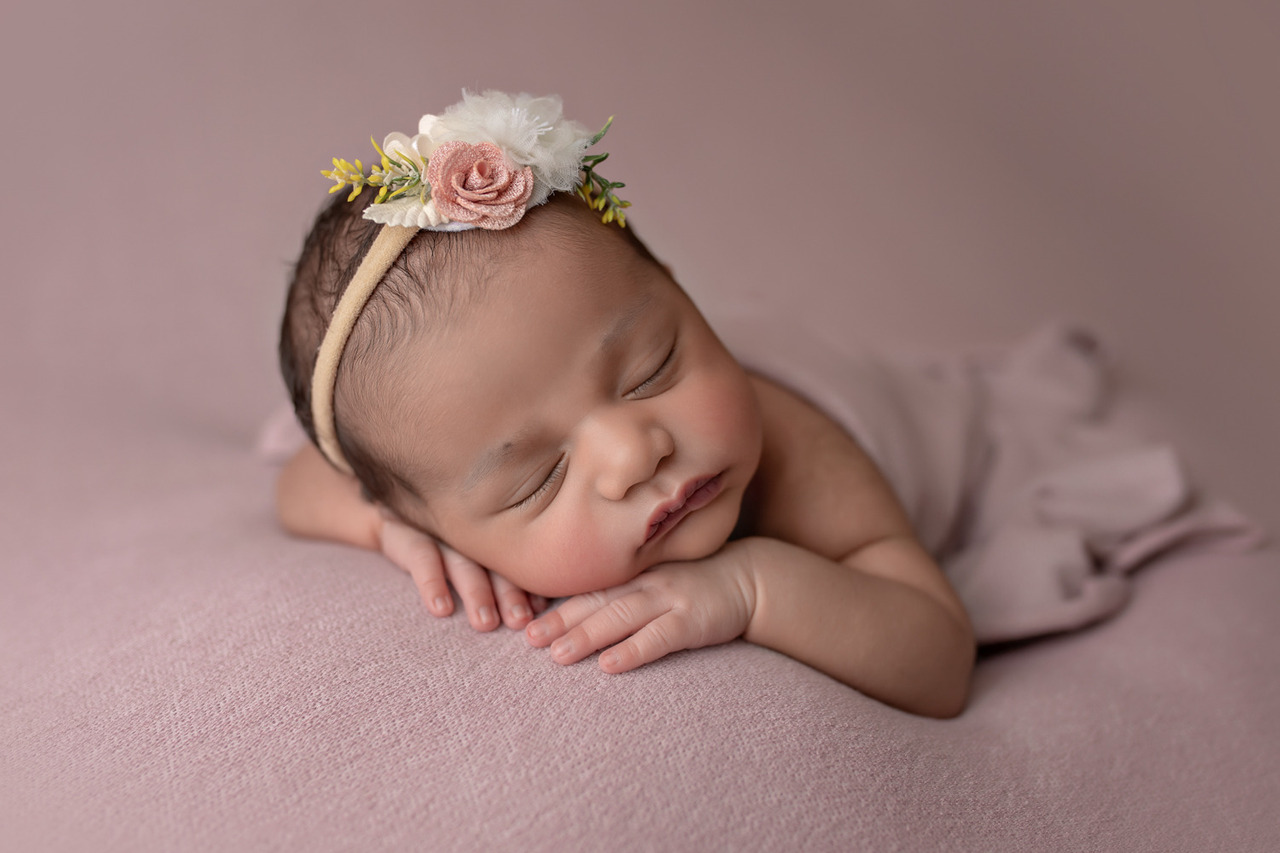 Photo by Ana Ramalho
When should I schedule a newborn session?
It's never too early to get on a photographer's calendar, especially if you're due in spring or fall. These can be really busy seasons for photographers, so don't wait until the last minute! In fact, you'll definitely want to secure a session before your baby arrives so that you won't be bothered with emails, contracts and session payments while you're adjusting to life with a newborn.
If you're considering an in-studio session where baby is gently posed, most photographers prefer to schedule in the first 7-10 days after birth. Lifestyle sessions are a little more flexible and are usually taken within the first six weeks.
What do I wear for newborn photo sessions?
Color is the most important factor here! You'll want to choose outfits for you and your family that flatter everyone – including baby. Solid earth tones are lovely for every skin tone.
I happen to love moms in ivory, white or soft pastels. Solid colors are important because prints and patterns can date your photos and distract from baby. Flowy maxi or midi dresses that are nursing-friendly look wonderful for newborn sessions.
Dress your newborn in a basic white onesie. This is a classic, angelic look that looks sweet in and out of a swaddle, especially when paired with a hat or tiny headband. Your photographer may have outfits, accessories, swaddles or wraps you can use for added cuteness.
Dads look great in a neutral, solid colored button-down shirt or henley, with well-kept jeans or khakis. Dress your other child(ren) in a complementary soft color and ensure they can move freely to avoid tears!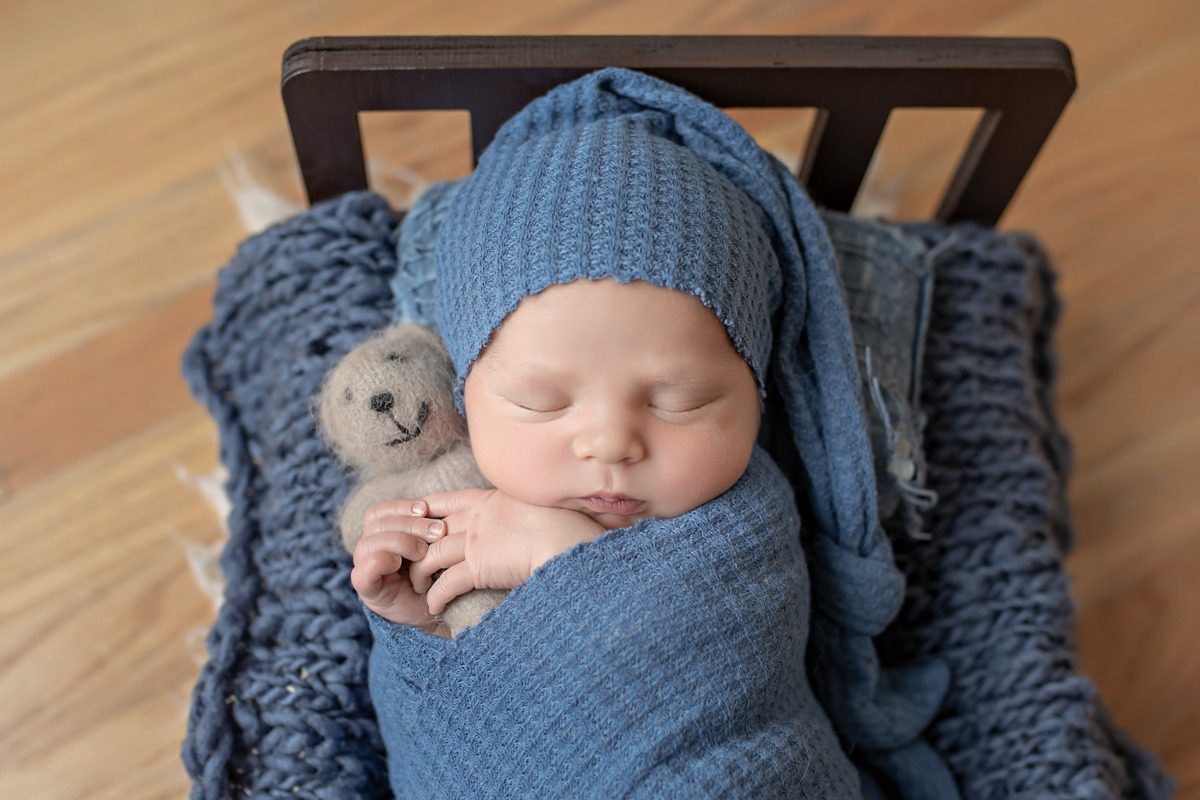 Photo by Ana Ramalho
How do I display the photos afterward?
Gallery walls, Photo Ropes and Photo Books are three mama-approved ways to show off snaps of your tiny love! The great thing about a gallery wall and a photo rope is you can swap out images as baby grows, meaning your precious memories are always visible.
Arrange your most-loved photos in a photo book on a monthly or yearly basis so that your favorite moments are always at your fingertips. You'll be amazed at how quickly your little one changes as time passes. These items featuring baby can also be your go-to gift for loved ones for years!
How do I find a photographer that I love and trust?
The most important thing about your newborn photographer isn't how pretty their photos are (that comes second!).
Your biggest concern is to ensure your photographer puts safety as top priority. While all of us want to deliver images that you adore, nothing is worth jeopardizing baby's wellbeing or safety.
You'll also want to ensure their photography and editing style matches your idea of the perfect newborn session: posed or lifestyle, focused on mostly baby or the whole family, lots of bright colors or neutral tones.
If you can find a photographer you love for both maternity and newborn sessions, this makes for a better experience for everyone. It's nice to have someone you know working with your newborn, and you'll already be familiar with her shooting and editing style.
Make sure scheduling a newborn photography session is at the top of your motherhood to-do list!
You'll be so thankful to have these moments frozen in time as your little one grows up! After all, they're only this little once.