A question I get asked a lot as a maternity photographer is when to take pregnancy photos. I'll start by saying that the answer is going to be different for every mom-to-be but I will give you some helpful tips so you can make an educated guess of when will be the best time for you.
Try and schedule your maternity photo session in your seventh or eighth month of pregnancy.
Your belly will have a nice round shape during this time frame, perfect for taking photographs. If you're counting by weeks, schedule your session when you're around 28 and 34 weeks of pregnant.
If you take maternity photos after your eighth month of pregnancy, your maternity might be uncomfortable. You want to avoid taking photos when your belly feels too heavy, usually after 35 weeks.
You also need to be mindful that babies sometimes make an unexpected "early" arrival. I have had past clients miss out on capturing their pregnancy due to their bub arriving a few weeks early so I find it's always best to be prepared!
Photo by Ana Ramalho
Not all Pregnancies are the Same
Generally, the 7th or 8th month works for most soon-to-be-mums. However, since every woman and pregnancy is different, this may not work for you. The best time for a maternity session still depends on you and how you are feeling. So to know if you are ready to face the camera, pay close attention to the changes in your body and your growing baby bump. Whether this be your first baby or your 10th, every pregnancy is different. You may have felt amazing at 36 weeks with your first baby but second time round you may have a totally different experience. It's best to make the right choice for you and I suggest that when you are feeling good, that's when you reach out to book your session.
If you're looking to use your maternity photos for your baby shower invitations, you can take your photos as early as 28 weeks.
This will allow you to use your photos at the very start of month eight for your baby shower. Although baby showers typically occur during month six or seven, you can still host your baby shower a few weeks late if your maternity photos are a must-have for your invites.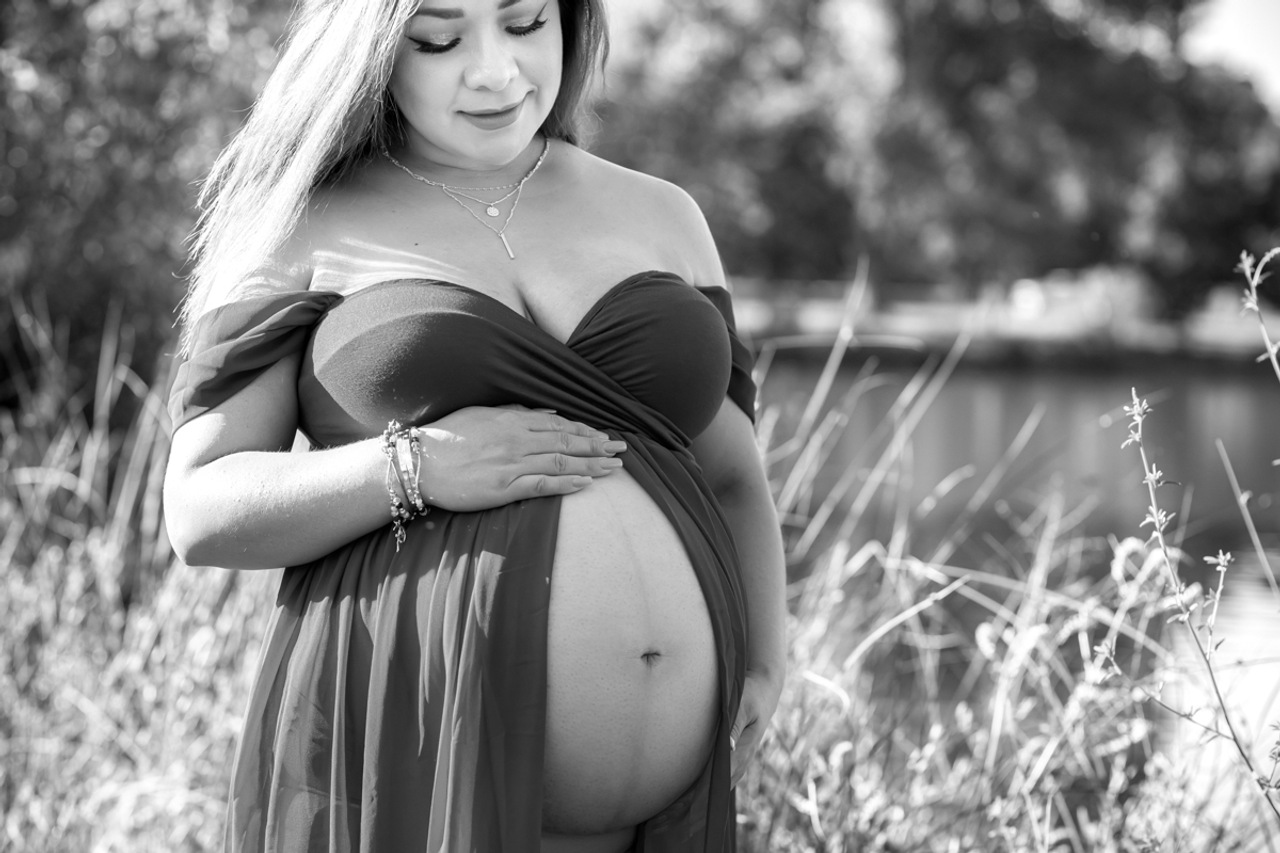 Photo by Ana Ramalho-
When To Take Maternity Photos With Multiples?
If you're expecting multiples, you should take maternity photos during your second trimester. Your belly will appear bigger during the second trimester since you're carrying more than one.
I suggest taking photos at 24 weeks while you're still comfortable and can move around with ease.
Maternity Photo Tips
Once you've scheduled your maternity session, there are a few tips to keep in mind when planning out your shoot.
In addition to considering maternity outfit ideas, location and maternity photo ideas, follow these simple tips to make sure your photos are beautiful.
- Avoid wearing large and distracting patterns.
- Make sure your belly is moisturized. Apply lotion at least an hour before your session to avoid the shiny belly-look and staining your clothes.
- Avoid wearing tight-fitting clothing right before you session to avoid marks on your belly.
- If you are showing bare skin, try to moisturize your knees and elbows.
- Hands are in important, too! Get a manicure or a light polish for a more finished look in a close up of your hands around your belly.
- Remove tight-fitting clothing and accessories, like watches and bracelets, at least two hours before your session.
- You may want to include a few baby things like a cute pair of shoes or a cherished family heirloom in your photo.
- Work with your photographer ahead of time to come up with a concept
Photo by Ana Ramalho
Final Thought
Maternity photo sessions are all about capturing the incredible changes with your body, it's all about life and connection. So, what is the best time for your maternity photos? It is when you feel it is the right time, when you feel good, comfortable and ready.